The greater Cascade Range including volcanic and non-volcanic peaks from British Columbia south through Washington, Oregon, and into California.
Locals
2020-12-26 – AIARE Avalanche Rescue
One-day AIARE curriculum course from Seattle / North Bend's Pro Guiding Service . We met near Snoqualmie Pass just above Alpental's base at "lot 4" and the start of the snow lake trail. Masks were worn, distance was plentiful, and all the beacons were recovered successfully.
Conditions were lucky with enough new snow to provide a 3-6 inch fresh coat, enough visibility to see 500+ feet up the canyon walls, and temps + precip holding through the day to avoid getting too soaked in my not-so-waterproof coat and pants.
Thanks all who participated, and hope to write more about the AIARE progression generally. As a relative newcomer, it's definitely been worth the formal coursework days completed so far.
Here's a glimpse of our group leader discussing how the simplicity of checklists remind him of a fish he caught last summer.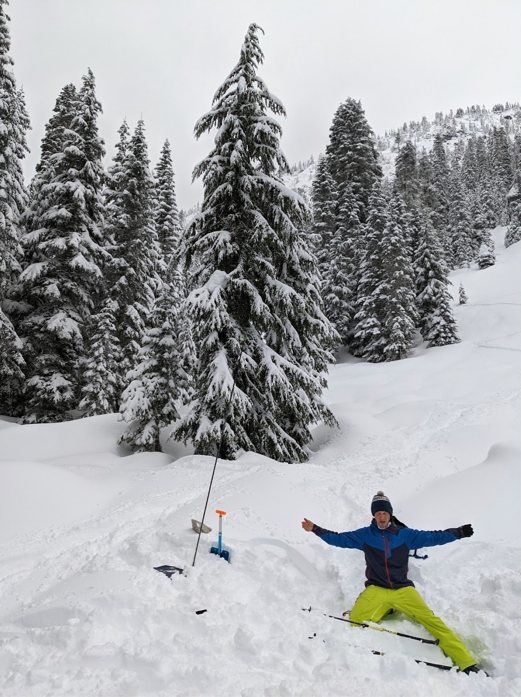 2020-12-25 – Shasta
I stopped by Shasta Ski Park for a stretch on their opening eve this Christmas day. It was just beginning to snow heavily mid-morning, and the lift-served terrain definitely needed it. Coverage was slim, and preparations were underway. So I returned to the Shasta Nordic Center trails, and was able to test out the new-to-me telemark gear I hope to use in the Avi Rescue class the next day. The detour was a successful and much needed snowy stretch along the way north.